One of the oldest and best preserved human mummies ever found is that of Ötzi, a man who lived some 5,300 years ago near the present border of Austria and Italy. His remains, preserved in an alpine glacier high in the Ötztal Alps, were found 1991. That Ötzi lived during the transition between the late Stone Age and the dawning Copper Age is evident from his possessions: a flint knife and a copper axe. Also among his possession were pieces of flint and pyrite, the key materials of early percussion fire making.
Foundation of Fire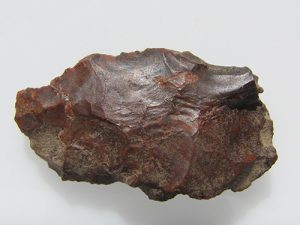 Anthropologists believe humans first created artificial fire between 250,000 and 700,000 years ago using simple drills in which wood-on-wood friction generated ignition heat. Much later, they learned to make fire by striking certain mineral materi­als with hard objects.
The first mineral-sparking material was pyrite, or iron disulfide. The striking materi­al was flint, a form of microcrystalline quartz. Harder than pyrite, flint could be easily shaped into a striking edge. When flint strikes pyrite, part of the pyrite surface shatters and emits a shower of sparks, which can ignite dry tinder.